Fitzpatrick Referrals Oncology & Soft Tissue
Date of Transaction:

Aug 2022

Acquirer:

The Management Team - AURA Veterinary

Service:

M&A

Sector:

Healthcare
We are thrilled for Nick, Laurent, Jon & Gerard and it has been a pleasure to work along side them on this deal. We have secured a great group of investors who will support the team in their vision to create a world class hospital. G. Hamilton, MD
Alpha Helix Corporate Finance, the specialist healthcare M&A advisory boutique, is delighted to have advised Professor Nick Bacon, Dr Laurent Findji, Dr Jon Bray and Dr Gerard McLauchlan on their Management Buyout. They will collectively take the hospital forward, with the financial backing of a small team of external investors. The company has rebranded to AURA Veterinary.
Founded in 2015 and situated on the Surrey Research Park in Guildford, the hospital has been led by the clinical team of Professor Bacon and Dr Findji for the last seven years and specialises in oncology, soft tissue surgery, interventional radiology and internal medicine. Dr Bray and Dr McLauchlan joined the team in 2016 & 2017 respectively are some of the most respected clinicians working in the field of animal cancer and interventional radiology worldwide. AURA Veterinary exists to provide exceptional care for animals and families. The team is driven by a commitment and passion to always advocate for animals and the veterinary industry. This includes contributing to the veterinary community, investment in scientific innovation, and the creation of an open, transparent and collaborative culture, both in its hospital and in the wider community.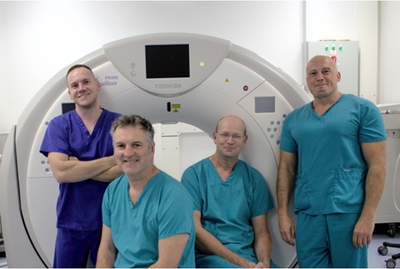 Professor Nick Bacon, Clinical Director commented "Gordon and Bettina at Alpha Helix provided unwavering guidance and support during the process and drew on their deep knowledge of the veterinary sector to bring some very credible investors to the table. The team at AURA were incredibly grateful for their hands on approach to getting a fantastic deal for the management team and during the long journey the advice from Gordon and Bettina was invaluable. We are really looking forward to the journey ahead and a new chapter for the company."
Gordon Hamilton Managing Director of AHCF commented "We are thrilled for Nick, Laurent, Jon and Gerard and it has been a pleasure to work along side them on this deal. We have secured a great group of investors who will support the team in their vision to build a world class facility offering specialist care to animals from across the UK and the world. The team at AURA Veterinary represent the very best of the profession and I am excited to see the company grow from strength to strength under its new ownership."
Welcome to Alpha Helix
We are pleased to announce that on 12th March of this year, Gordon Hamilton led the MBO of Nexus Corporate Finance (NCF), therefore we have re-branded as Alpha Helix Corporate Finance (AHCF).
The team will remain unchanged and will continue to provide independent advice to exciting and fast-growing UK SMEs in the Healthcare sector.